What News Would You Bring.......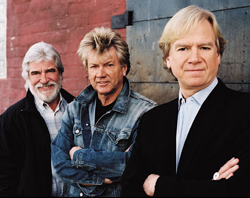 Welcome to what is, to all intents and purposes, a small thank you note to The Moody Blues, for so many years of wonderful listening pleasure. We've travelled with you on so many voyages, through so many landscapes, and always, we wait for the next journey to begin. The beginnings for The Moodies, and for Sam had the same starting point, the same city in central England, so it seemed fitting, on that level, as well, that this site come to fruition. Let's begin this small journey with a brief biographical over-view, and go from there. Lovely to see you again.
In Birmingham, England in May 1964,
Ray Thomas
(vocals),
Clint Warwick
(bass/vocals) and
Graeme Edge
(drums) came together as the R & B Preachers, which in turn became the first incarnation of The Moody Blues, They were all accomplished musicians with much experience in local bands. The group gained a national reputation as a tight rock/R&B group, signed to Decca Records and released their debut single, "Lose Your Money," all within six months of forming. By early 1965 their second single, "Go Now," was at No. 1 in the U.K. and No. 10 in the U.S. After touring Britain with Chuck Berry, the Moody Blues traveled to the United States supporting The Kinks. Unfortunately their 1965 full-length debut,
The Magnificent Moodies
failed to chart, despite the promising success of their early singles, leaving the group dejected. Months later Clint Warwick retired from music, and by October 1966 the band broke up, exhausted from touring. Laine went on to a solo career, later working with Paul McCartney; the rest of the band regrouped a month later with guitarist
Justin Hayward
and bassist
John Lodge
filling in for Laine and Warwick.
In 1967 the new Moody Blues scored a big hit with Days of Future Passed, a concept album which combined classical orchestration with rock music, an innovative move which won the band instant praise. Thanks to the singles "Nights in White Satin" and "Tuesday Afternoon" the record went gold, reaching No. 3 in the charts. Their 1968 follow-up, In Search of the Lost Chord was equally successful, pioneering the use of the mellontron in pop music, a synth-like instrument which became a key part of their sound. On the Threshold of a Dream and To Our Children's Children's Children, both released in 1969, continued their string of gold records with overdubbed, psychedelic rock soundscapes. With 1970's A Question of Balance the group elected to use fewer studio effects so as to enable the band to perform their songs live without special arrangement. The new, more stripped-down sound was even more popular with fans, and the album went to No. 1 in Britain and No. 3 in America. Every Good Boy Deserves Favour, a 1972 album named after a music theory mnemonic, and 1973's Seventh Sojourn were even more popular, reaching No. 1 in the U.S. and U.K.
After an epic nine-month world tour in 1974, the exhausted Moody Blues announced they were going on hiatus for an unspecified period. All five members released solo albums, and in 1978 the group decided to resume working together, releasing Octave, their first platinum record. Pinder was replaced with Patrick Moraz, and the band embarked on another world tour. The group continued releasing albums throughout the '80s, becoming a popular oldies band. In 1992 Moody Blues performed at a landmark concert at Red Rocks accompanied by a live symphony orchestra; an album and video for A Night at Red Rocks was released the following year. An improved, remastered "greatest hits" compilation, The Best of the Moody Blues, was released in 1997.
It is the hopes of this website that we can go into detail of how all the members came together, from what Birmingham bands they came, for, with the exception of Justin Hayward, The Moodies are most definitely a Birmingham band, but Justin is an honorary Brummie anyway....
We've installed four videos on the site, they are Go Now, on The Magnificent Moodies, Nights In White Satin on Days Of Future Passed, Your Wildest Dreams on The Other Side Of Life and I KNow You're Out There Somewhere from Sur La Mer. Enjoy......
the Moody Blues Album website
is not reponsible for the content
of external links, except our own
of course, but you knew that...

As they say on their site,
Higher and Higher is the
premier source for
Moody Blues news
and information.
the official Moody Blues
fan community. Here you
will find unique and exclusive
Moody Blues content and
opportunities that you cannot
find elsewhere. You will also
find amazing new Community
features that take fan interaction
to a whole new level creating
access to the band and other
fans that will truly make this
one of the best fan communities
a wonderful fan-based website
with lots of information
an Italian website
but it is in English
and very well done too
the Birmingham years.
fascinating early history
Tony Brown's incredible website,
so many really great photographs
(ever wonder what Graeme Edge
looked like as a young lad?)
Voices In The Sky

(Justin Hayward)

Bluebird flying high,
Tell me what you sing.
If you could talk to me,
What news would you bring
Of voices in the sky?

Nightingale hovering high,
Harmonize the wind.
Darkness your symphony,
I can hear you sing
Of voices in the sky.

Just what is happening to me?
I lie awake with the sound of the sea
Calling to me.

Old man passing by,
Tell me what you sing.
Though your voice be faint,
I am listening.
Voices in the sky.

Children with a skipping rope,
Tell me what you sing.
Play time is nearly gone,
The bell's about to ring.
Voices in the sky.

Just what is happening to me?
I lie awake with the sound of the sea
Calling to me.

Bluebird flying high,
Tell me what you sing.
If you could talk to me
What news would you bring
Of voices in the sky?
Voices in the sky.

Voices in the sky.
Voices in the sky.