One Voice of the Sound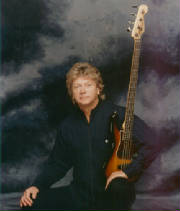 John Lodge was born on 20th July 1945 in Birmingham and attended Birches Green Junior School, Central Grammar School and the
Birmingham College of Advanced Technology
, where he was an Engineering Student. John was first introduced to rock 'n' roll via American artists such as Jerry Lee Lewis, Little Richard, Chuck Berry, American movies ("The Girl Can't Help It"). And then Buddy Holly, not only a songwriter but an artist whose music made John realise that there was harmony in music, too. John then made up his mind which road to follow.
At school, he was moved from the music class to the woodwork class for not knowing the birth-date of Beethoven, but at the age of 15 met up with Ray Thomas and later Mike Pinder and formed
El Riot and the Rebels
, which became one of the most popular bands in Birmingham. However, Ray and Mike wanted to move to London but John decided to stay at College and complete his education. Not wishing to give up music completely, he formed The Carpetbaggers (who for a time were going to be Gene Vincent's backing group) and started to write his own songs.
After obtaining a Degree in Engineering, he again met up with Ray Thomas from El Riot and the Rebels who, by that time, had formed the M & B 5 with Mike Pinder and Graeme Edge, which had evolved into The Moody Blues, who had already enjoyed a hit single with "Go Now". Personnel changes were afoot and following his reunion with Ray, John was asked to join the Moodies in 1966, at the same time as Justin Hayward.
John's prolific songwriting for The Moody Blues has produced such hits as RIDE MY SEE-SAW, ISN'T LIFE STRANGE, (which won John an
ASCAP
songwritting award) I'M JUST A SINGER (IN A ROCK AND ROLL BAND) (which also won John an ASCAP songwriting award), STEPPIN' IN A SLIDE ZONE, TALKING OUT OF TURN, SITTING AT THE WHEEL, LEAN ON ME (TONIGHT) and GEMINI DREAM (with Justin), which won them both a joint ASCAP songwriting award.
After the Moodies took a break from touring and recording, John joined Justin in the making of the beautiful album BLUE JAYS in 1975 and they toured extensively in England. Following that, John and his family spent time sight-seeing in Europe and America, taking time to enjoy all the sights that had passed him by so quickly during the Moodies' tours. Refreshed, John then worked on his first solo album NATURAL AVENUE, which was released in 1977 together with three singles SAY YOU LOVE ME/NATURAL AVENUE, CHILDREN OF ROCK AND ROLL/PIECE OF MY HEART and SUMMER BREEZE/RAINBOW. In 1980 two non-album tracks were released - STREET CAFE/THREW IT ALL AWAY. In 1996 NATURAL AVENUE was re-packaged and re-released in the UK on Pinnacle Records and then the rest of the world via The Moody Blues Fan Club and the Internet.
Since getting back together in 1978 for the album OCTAVE John has once more been a driving force behind The Moody Blues and his happy, engaging personality, and obvious enjoyment for performing on-stage, shows itself to his many fans. As a musician, he has always placed an emphasis in playing live and believes that the group's stage performances have been the key factor in keeping the group's unity and sense of purpose. He believes that the success of the band has been their willingness to travel the lesser-trodden paths in music, to stay true to their own feelings of direction, and to perform only their own material. According to John, music is something that you can never retire from, it's a 24 hour and day existence, it's a permanent existence

his official website
John played bass and provided vocals
for this 1960's Birmingham band
three members of
The Moodies belonged
to this 1960's Birmingham band
did you know that El Riot
it happened in Tenbury Wells
and here's the article, from about
that amazing event from
thearchives of the
This Is Ludlow website